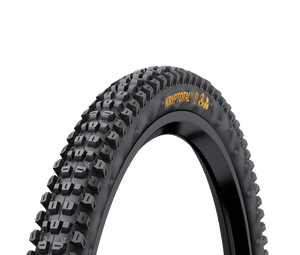 Continental Kryptotal -Rear Downhill Soft  29X2.40

Optimized for front wheel, the Continental Kryptotal balances stability of grip, traction for braking and rolling resistance. Ideal for mixed terrain conditions for you to push your limits in trail, enduro or downhill gravity riding.
Continental 's soft compounds delivers the balance of grip and rolling resistance for gravity focussed use cases. High level of grip with a reasonable rolling resistance. Option to optimize the rolling properties of your rear wheel on the DH bike or have the optimal combo for Enduro or Trail riding.