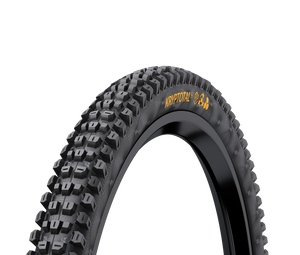 Continental Kryptotal -Rear Downhill Supersoft  29X2.40
Optimized for front wheel, the Continental Kryptotal balances stability of grip, traction for braking and rolling resistance. Ideal for mixed terrain conditions for you to push your limits in trail, enduro or downhill gravity riding.
The supersoft compounds it's Continental 's softest and grippiest compound in the MTB Gravity range. Especially for Downhill and Enduro use cases where the main focus is descending. Tires equipped with this compound are for riders with a 100% focus on grip, traction, control. Recommended for use cases with a large share of descent.