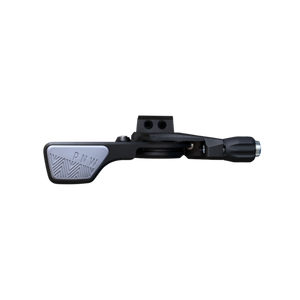 The PNW Loam Lever It's been called the yoga mat for your thumb, and while the extra grip is great, the PNW Loam Lever also features buttery smooth actuation that can improve the feel of any cable actuated dropper post.
The PNW Loam Lever comes with an oversized high quality sealed bearing paired with an additional seal and all stainless hardware for longevity and durability.
To make this lever a truly artisan product PNW uses a 5 axis CNC machine for ultra precise details and weight savings.
The PNW Loam Lever's grippy injection molded pad has got your back in sloppy weather conditions.
THE 5 KEY CHARACTERISTICS OF THE LOAM LEVER

Adjustability - We believe precision matters, this lever provides two forms of adjustment so you can dial in your perfect placement.

Weather Proof - Tested in the PNW Winters where grit and grime bond to every surface of your bike, we equipped the Loam with all the right details to keep it acting smooth for the years to come.

No Slip Grip - Speaking of weather, the Loam Lever features a grippy injection molded thumb pad to keep your paws in place in even the sloppiest of conditions. The thumb pad is available in Teal, Orange, Grey, Black and Red.

Techy AF - Custom CNC machining throughout the whole design of the Loam Lever for precision and weight reduction.

Direct Mount - Available in Sram's MatchMaker X for Guide brakes and Shimano's I-Spec II for XTR M9000, XT M8000, SLX M7000 and DEORE M6000

Shifter Style Lever (Compatible with 1x Drivetrains - not compatible with drivetrain shifters on the rider's left side of the handlebar for people with front 2x - 3x chainrings)

Any cable actuated dropper post (not compatible with Reverb as they are fully Hydraulic posts)

Standard 22.2mm Hinge Clamp (Compatible with Standard MTB handlebars)

Sram MatchMaker X (Code, Guide, excluding Level T versions)

Shimano ISpec II (XTR M9000, XT M8000, SLX M7000, DEORE M6000)

Accepts cable routing from either direction